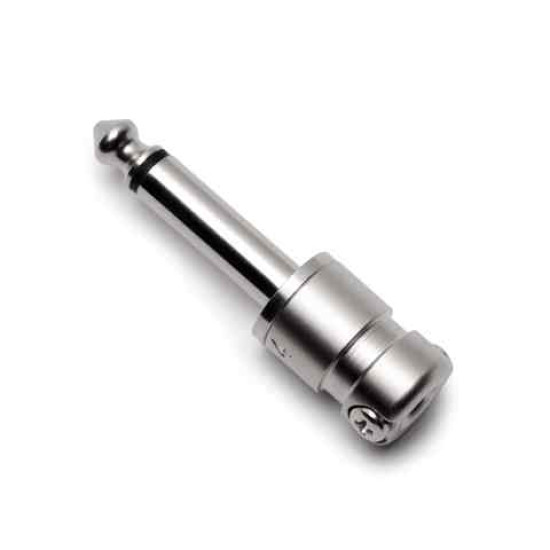 SquarePlug SPS4 Compact Soldered Straight 1/4'' Plug, Matte Nickel
SPS is the shortest soldered 1/4" connector with strain relief made to date. It protrudes by only 21mm when plugged in and has an OD of 13mm [just under 14mm around the screw heads area].
SPS fits on any controller/patch bay/switching system/interface and features a unique 2-screw cable holding mechanism that doubles as a discreet yet effective cable identification system.
Effective strain relief:
The cable is firmly held in place by two lateral screws preventing any tension on the solder joints. It is a very effective way to prevent the cable from moving in any direction.
There's absolutely no risk of damaging the cable by using this system. Tests have been carried out on a number of cables with soft to more harder outer jackets with excellent results.
You can safely hold the cable and pull it from whatever socket it's plugged in with zero risk of harming the cable or the solder joints.
Shape, finish and physical dimensions:
The handle of the SPS has been carefully designed to be functional and elegant at the same time:
A circular groove allows to hold the plug to patch it or un-patch it effortlessly despite its compactness. Additional grip can also be obtained by holding the plug right where the screw heads and the groove intersect.
A matte Ni finish gives the SPS a professional look and feel.
Length: 21mm [0.82"]
OD: 13mm [0.51"]
Cable opening:
5mm for the SPS4 [allows to pass cables up to 4.8mm OD]
- Cable Compatibility chart HERE